Public Adjusters for Commercial Fire Damage
Within moments, a fire can engulf your property and interrupt your business indefinitely. As you concentrate on the safety of all occupants and how to stay in business, you will also need the time to prepare a thorough insurance claim covering your loss.
According to the National Fire Protection Association, business owners and organizations suffer $2.3 billion in commercial and industrial property losses each year.
Fire claims are especially complex for the different types of damage they cause, all of which have to be documented and proven to your insurance company. For example, fire can create serious damage from smoke, burning residue, and corrosive substances released in the flames. There can also be substantial water damage from the effort to extinguish the blaze. In the aftermath, your property and valuables may be exposed to the elements and become more damaged if not addressed immediately. As the policyholder, it is your responsibility to minimize the damage while you focus on keeping your business running. Do you also have the time to handle your insurance claim?
Your insurance company may present an offer they think is sufficient based on their own damage assessment by their own fire insurance adjuster. Shouldn't you also have a professional on your side whose interests are parallel with yours? The Greenspan Co. public adjusters work only for you to evaluate, document, and prove the full scope of loss and negotiate your claim for the maximum amount.
Allow us to be your partner in recovery, our public adjusters are ready to be by your side for the full recovery process.
What To Focus On After Fire Damage
Make sure you fully understand the meaning of each of the following before you move forward. Feel free to reach out to us for a no-cost discussion about your claim.
What is my agent/broker's role?

The insurance company hired a construction estimator. What do I need to know?

Why is a claim strategy so important?

Am I impacted by coinsurance?

Can smoke damage be removed/neutralized?

How can you identify/document items that are totally destroyed?

Your insurance company pays less if you clean/restore as much of your equipment and improvements as possible. Is that a good idea?

How do the smoke and the water used to fight the fire affect your machinery? Your computers, equipment, and other electronics?

If water used in suppressing the fire causes mold and fungus, is the ensuing damage covered?

Asbestos, lead, and other hazardous materials can have a major impact on your claim. Are you aware of how to properly address these in order to prepare your claim and to avoid future liability issues? Hazardous materials such as asbestos and lead can be expensive to address. You want to make sure to not cut corners when addressing this issue. You want to make sure to not cut corners when addressing this issue.


Code Upgrade coverage is very important when rebuilding after a fire. How does your insurance policy address code coverage? Also, what about any Green building upgrades? Checking the correct building codes before you prepare your claim is critical.

What happens when the insurance company engages a forensic accountant? What is his/her role? Why can't your accountant just prepare your claim? You will have to produce your financial statements and possibly your tax return. You may need to recast your financial statements? If so, why? What are extra expenses? What can be included?


What are expediting expenses? How do they differ from extra expenses?

How much of my time will this take?

What is pressurized smoke?
How Our Team Helps You
Evaluate

Fully reviewing your insurance coverage.

Strategy

Developing a claim management strategy.

Compliance

Determining policy compliance issues.

Valuations

Completing detailed valuations of building, equipment and inventory losses.

Interruption

Formulating business interruption models.

Itemization

Presenting and supporting an itemized claim package to your insurer.

Negotiation

Negotiating on your behalf with your insurance company.

Communication

Keeping you informed every step of the way.

Settlement

Ultimately settling the claim for the maximum amount and with less hassle for you.
Industries Our Public Adjusters Have Helped
Client References & Testimonials

Client References

Ace Novelty Company


American Pacific Engineering (Pepcon)

Arctic Cold Storage

Artcrafters Cabinets

Avery Products

Barbeques Galore

Barry Swenson Builders

Bay West Properties

Beno's Department Stores

Best Western International

Boy Scouts of America / Los Angeles Area Council

Bugle Boy Clothing

The Burruss Company

Cambria Pines Lodge

Center Theatre Group

Cherokee Clothing

Choice Hotels International

The City of Whittier California

Coast Federal Bank

Coast Metal Craft

Continental Graphics

Crew Knitwear

Dairy Fresh / Ever Fresh

Darling International

Delta Flo Manufacturing

Designworks, Inc.

Developers Management Services (DMSI) Watt Industries

DIVI Resorts

The Dubnoff Center

Encore Hospitality

Foremost Midwest World Headquarters

Foxy Fresh Produce

Gabriel Container


Gelson's Market

Golden Valley Road Partnership (Paul Mitchell Cosmetics)

Goodman Real Estate

H & E Home Centers

Hamburger Hamlet Restaurants

Hilton Hotels Corporation

Historic Hotels of America

Image Entertainment, Inc.

International House of Pancakes (IHOP)

J.C. Penney Company, Inc.

Kennedy Associates Real Estate Counsel

Kentucky Fried Chicken (KFC) / Kazi Foods

Las Vegas Sun

Left Bank Restaurant

Lorber Industries

Lorenzo & Kimberly di Bonaventura (Pres.Theatrical ProD., Warner Bros)

Loro Piana

LSG Lufthansa Services

The Macerich Company

McDonald's of Barstow

Medigloves, Ltd.

Miles Chemical Corporation

MM Financial, LLC

The Molasky Group Of Companies Ovation Developement Corporation

Monroe & Friedlander Management

Naartjie Custom Kids

National Education Corporation

National Food Corporation

National Investment Properties

Ortho Mattress

Pacific Corrugated Pipe Company

Pacific Ethanol

Paladin, USA

Paramount Petroleum

Passco Real Estate Enterprises

Payless Cashways, Inc.

Pinnacle Entertainment

Pizza Hut

Plitt Theatres

Polycarbon

Premier Asset Management

Professional Plastics

Pyrograph, Inc.

Qantel Business Systems

Red Lobster

Samsung America Inc. Samsung Washington Inc.

Samy's Camera

Service Merchandise Company

Silicon General

Sonic Industries A Dover Diversified Company

Specialty Merchandise Corp.

Spectra Image, Inc.

Stroud's Linen Warehouse

Sunseeds Division of Westseeds

Swaner Hardwood

Tralisa Restaurants

Trammell Crow Residential

U. S. Care

Universal Studios
Consumer Products Group

US Boys

USA Multifamily Housing

Van Gilder Insurance Corporation

Vendome Liquors

Vickers Concrete Sawing

Vishay Intertechnology

Wyndham Hotels

Zimmerman Investments

Testimonials

...When the mill was destroyed by fire, a consultant to the milling industry and a person we had trust in, recommended we meet with you. He spoke of past positive experiences and suggested that we not go it alone. His advice turned out to be right…You carefully and successfully argued that our buildings, because of the ways in which they were connected, should be considered as "one", thereby reducing any penalties we would incur. You controlled the scope on the equipment and, as such, clearly were able to negotiate the best outcome on our behalf. You successfully argued for increased costs of construction, and were able to collect them in our behalf, due to codes, in spite of our insurer's attempts to deny us any payments under this policy extension. And lastly, you made sure that we collected for every single coverage that our policy afforded under our business interruption and extra expense coverage's….In conclusion, it's very clear that with you on our team, we collected millions more in payments than we would have without you. You allowed us the valuable time and resources for us to focus on redesign and reconstruction, allowing us to reopen our doors and again become the largest employer in Weaverville. Due to your efforts, a community was saved. You followed through on everything you promised.

Trinity River Lumber Company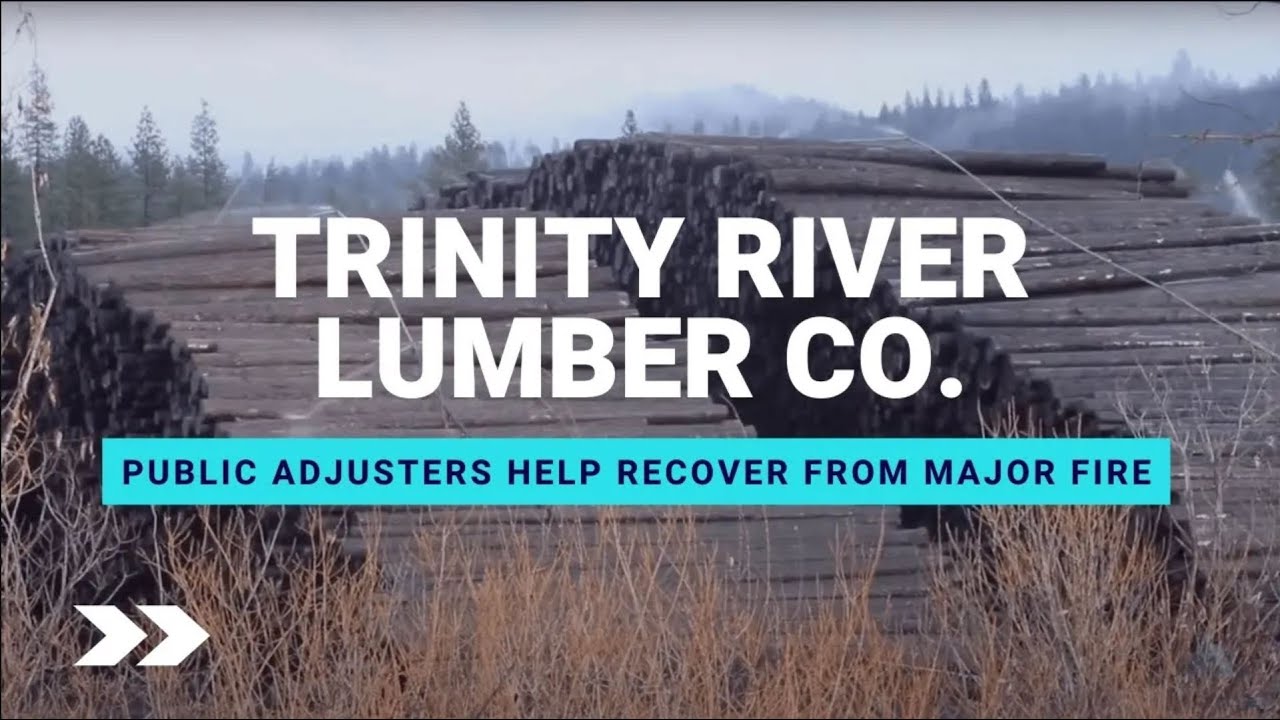 Understanding what a public adjuster can do for a client is hard. In the case of the Trinity River Saw Mill in Weaverville,Ca, The Schmidbauer Company decided a public adjuster was exactly what they needed. A huge disaster that could of effected thousands of jobs for a small community was carefully managed by a few professional loss consultants. A difficult feat with an even bigger positive return.
Contact Us
If you're suffering from a commercial property claim, we can help!
( * ) indicates required field