Building Material Wholesaler Rebuilds After Losing Millions
When a debris fire spread to the family-owned American Emperor flagship store, the building went up in flames with surprising speed
When a debris fire spread to the family-owned American Emperor flagship store, the building went up in flames with surprising speed.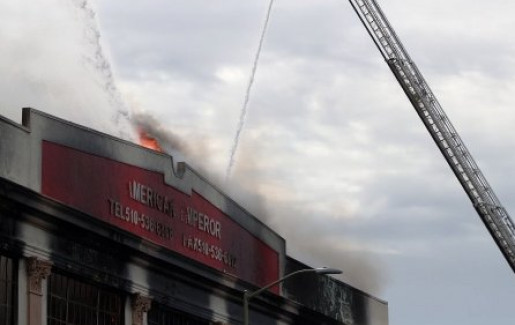 Description
Twenty employees were evacuated in a fire that developed into a third alarm call in a matter of minutes. A cornerstone supplier to the construction industry in the San Francisco Bay Area, the building and inventory suffered significant damage.
The most crucial job was to keep the business running in spite of the destruction of millions of dollars worth of inventory. Without a building out of which to run the business, they faced the potential loss of hundreds of regular clients.
Issues
The business was in danger of taking a significant financial hit, as it had no location in which to operate - no way
to maintain its customer base.

Millions of dollars of inventory and business personal property was destroyed, along with vital business records. The sheer volume of replacement was daunting, as was the recreation of the data lost – both necessary to resume operations and to quantify the insurance claim.

The insurance policy had an 80% coinsurance requirement (a risk sharing clause in the policy requiring American Emperor to carry an amount of insurance equal to 80% of their values) , which could have penalized the business and reduced the amount that they could collect.
Solutions Applied
The Greenspan Co./Adjusters International team, having encountered similar scenarios hundreds of times before, immediately suggested alternative nearby locations – the cost of rental and outfitting to be paid under the extra expense portion of the policy. Quickly demonstrating that the cost of such an arrangement would cost the insurance company less than a total suspension under the business interruption portion of the policy, the insurance company agreed enabling American Emperor to retain both its customer base and its employees.

The Greenspan Co./Adjusters International team avoided any coinsurance penalty by demonstrating that the property was insured to value.

The Greenspan Co./Adjusters International took a two-pronged approach in addressing the inventory and business personal property loss: they negotiated for a reduced salvage value on the lesser-damaged business personal property and negotiated a flat fee for salvage. The Greenspan team's forensic accountants recreated a detailed picture of the business to guarantee the accuracy of the settlement, securing an agreement on the growth trend of the business.