In January, Mesa Arizona's Assistant Fire Chief and President of the Arizona Fire Chiefs Association (AFCA), Mary Cameli presided over the Fourth Annual Presidential Forum of the AFCA. More than 25 fire chiefs participated in the forum and each served as the representative of his/her region of the state. Part of their role was to share information with neighboring fire chiefs along with the 1,000+ members of the Arizona Fire Chiefs Association, plus Fire Service employees, cadets, and volunteers.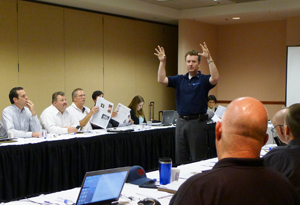 The AFCA provides its membership "leadership through involvement, professional development through network, education and information distribution, and a forum to improve the fire service of Arizona." The Greenspan Co./Adjusters International was invited to speak at this year's forum about how public insurance adjusters help many of the same residents served by the Fire Service. This most recent forum served as a great opportunity to educate and inform those on how TGC/AI's services cohesively intertwine with the mission statements of Arizona fire departments.
One of the upcoming events discussed during the forum is the 2015 Desert Southwest Fire & EMS Leadership Conference, hosted by the AFCA and scheduled for March 24-26th, in Glendale, Arizona. The Expo, held at the Renaissance Phoenix Glendale Hotel is the largest of its kind in the Southwest. It is where spectators come to view "25,000 square feet of the latest fire and EMS equipment in Arizona." In attendance will be over 100 vendors and 300 fire service professionals. The Greenspan Co./Adjusters International is a Five Bugle member of the AFCA and an active exhibitor at the Annual Leadership Conference & Expo.